Indian Savory Pancakes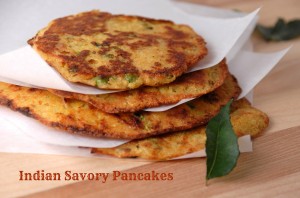 Ready for some flavour? Try these fragrant, savory pancakes for dinner tonight!
Ingredients
2 ½ cups water
2 Tbsp oil
1 cup gram flour
3 Tbsp rice flour
½ cups whole wheat flour
1 cup finely chopped onion
½ finely chopped tomato
2 tsp finely chopped green chilli
2 tsp red chilli powder
3 tsp salt
2 tsp cumin seeds
2 tsp cilantro leaves
1 tsp garlic paste
Instructions
In a large bowl, add rice flour, gram flour and whole wheat flour.
Add chopped tomato and onion. Mix well.
Add seasoning: cumin seeds, salt, red chili powder, cilantro and chopped green chilli. Gradually add the water.
Cover and set aside for 10 minutes.
Place a non-stick pan over medium flame and grease the pan with oil.
Now pour ¼ cup batter in the center of the pan.
Let it cook for 3 to 4 minutes, or until it starts to turn darker brown.
Flip the pancake and apply a little bit of oil to this side also.
Cook for another 3 to 4 minutes, until it is golden brown on both sides.
Serve with ketchup or any of your favorite chutneys.
Enjoy!
Nutrition Information
Calories:
94
Fat:
1.8 g
Carbohydrates:
14.6 g
Sugar:
2.2 g
Sodium:
4.4 mg
Fiber:
3.5 g
Protein:
4.9 g
Cholesterol:
0.0 g