Cheesy Dried Plum Flatbread
Cheesy Dried Plum Flatbread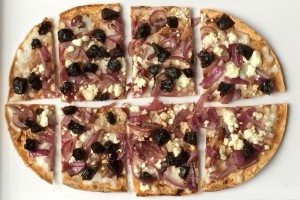 Do you love pizza but get tired of the same old, same old? This quick, easy and calorie-friendly Cheesy Dried Plum Flatbread will bring new life to your breakfast, lunch or dinner offerings.

It's time for this month's Recipe Redux challenge and the theme is "Spring Cleaning". The idea is to find an ingredient hanging out in the cupboard that needs some attention. I opened the door and there they were; a bag of dried plums just begging to be eaten. Cooking with dried plums is an easy way to add potassium, Vitamin A, fiber, iron and antioxidants to your meals. Research shows they also may help to strengthen bones, and prevent or even reverse bone loss. Of course, there's always that famous benefit gained from noshing on a few dried plums (ah-hem, prunes). Enjoy!
Ingredients
½ red onion, sliced thin
¾ teaspoon extra virgin olive oil
¼ cup low fat cottage cheese
4 dried plums (prunes), diced
2 Tablespoons goat cheese
1 whole grain, high fiber/protein flatbread, 90-100 calories
1 teaspoon balsamic vinegar
Instructions
Heat a sauté pan on medium heat, add olive oil and onions. Allow to slowly soften for about 10 minutes.
Evenly spread cottage cheese on flatbread. Add onion mixture, then plums and sprinkle with goat cheese.
Toast or bake in a toaster oven or regular oven at 400 degrees, directly on rack until cheese is partially melted and starting to bubble.
Top with a drizzle of balsamic vinegar.
Nutrition Information
Calories:
330
Fat:
11 gm.
Trans fat:
3.6 gm.
Carbohydrates:
50 gm.
Sugar:
20 gm.
Sodium:
455 mg.
Fiber:
13.5 gm.
Protein:
20 gm.