Khichuri (Rice with Lentil and Vegetable)
Khichuri (Rice with Lentil and Vegetable)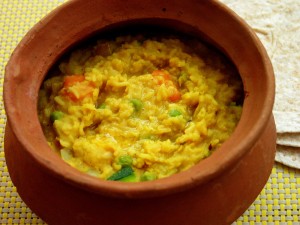 Ingredients
1 cup rice, miniature size
½ cup Red Lentils
½ cup cauliflower, sliced
¼ cup broad bean, sliced
¼ cup spinach, sliced
¼ cup cabbage, sliced
¼ cup carrot, sliced
6 green chilies, halved
2 tbs vegetable oil
1 tsp ginger paste
1 tsp turmeric powder
1 tsp cumin powder
½ cup onions, sliced
1 tsp salt
Instructions
Mix rice with red lentils. Wash with water and rinse by a strainer.
Heat oil in pan with medium heat. Add all spices and stir it. When the mixture blooms up (after about 1 minute), add all vegetables, rice and lentils mixture and stir till all ingredients ans spices are well mixed.
Add 5 cups of water and cover with a lid. Cook for 20 minute with medium heat.
Simmer for a couple of minutes till the water dries up. Serve delicious khichuri with pickle, egg omlet or eggplant fry.
Nutrition Information
Calories:
225
Fat:
5.1g
Saturated fat:
1.0g
Carbohydrates:
37.7g
Sodium:
399mg
Fiber:
6.5g
Protein:
7.0g
Cholesterol:
0mg