This is a great dish to make for a family dinner, both kids and adults will love this Chicken Macaroni Soup.
Chicken Macaroni Soup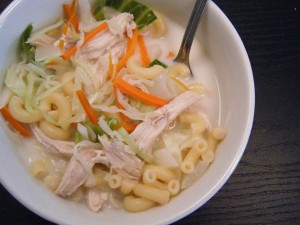 Ingredients
~1/2 lb. chicken, skinned, cleaned and diced
1 cup cooked macaroni
1 tablespoon chopped onion
1 teaspoon butter
1 teaspoon all purpose flour
1 large tomato, blended with one cup water
1 teaspoon celery, chopped
1 teaspoon salt
1 teaspoon garlic paste
1 teaspoon ginger paste
1 cup green beans, chopped
1 cup carrots, chopped
1 potato, peeled, & cubed
½ cup corn kernels
6 cups water
¼ teaspoon ground black pepper
Instructions
Place a pan over medium heat and add water.
Bring water to a boil and stir in chicken pieces for 5 minutes remove any clinging fat from the chicken.
Drain out the fatty water and then set aside chicken.
Place a saucepan over medium heat.
Add butter, chopped onions and flour to saucepan, stirring frequently.
Add tomato puree, chicken pieces, celery, salt, garlic paste, ginger paste, beans, carrots, chopped potato and corn to saucepan.
Add water to saucepan, cover and stir frequently.
Once the chicken and the vegetables are cooked, add the cooked macaroni and black pepper, stirring slightly.
Serve hot in soup bowls and enjoy.
Nutrition Information
Serving size:
⅛ recipe
Calories:
122
Fat:
1.6 g
Saturated fat:
0.6g
Trans fat:
0g
Sugar:
2.2g
Sodium:
329 mg
Fiber:
2.3 g
Protein:
10 g
Cholesterol:
21 mg