Cabbage with Vinegar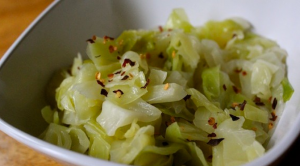 Ingredients
500g cabbage, julienne cut
1 egg yolk
10 ml vegetable oil
¼ cup vinegar
½ tsp salt
Instructions
Mix egg yolk, cheese, vinegar and salt with ¼ cup water in a small pan.
Boil water in a large and deep sauce pan. Place the small pan over the big saucepan and keep on stirring egg yolk, butter and vinegat mix. Remove when the mixture is densed.
Take cabbage in a different pan and densed mixture over the cabbage slices. Heat the cabbage. (Be careful not to boil.)
Cabbage with vinegar is ready to serve.
Nutrition Information
Calories:
68
Fat:
3.6g
Saturated fat:
0.9g
Carbohydrates:
7.5g
Sugar:
4.1g
Sodium:
316mg
Fiber:
3.1g
Protein:
2.3g
Cholesterol:
52mg